Generosity of OIC students shines during the Holiday Season (Part I)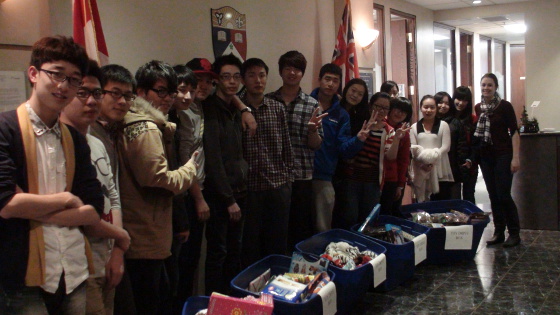 Description:
This year, Ontario International College (OIC) students have organized two charitable events: a toy drive for the Holiday Helpers, and a food drive for the North York Harvest Food Bank.
During the week of December 2nd to December 6th Mingkun Ding, known to many by his English name Jeromy, a student enrolled in our two year program, has taken an initiative to organize a toy drive for the Holiday Helpers, a charitable organization in Toronto, which collects toys and other items to support the less fortunate families during the Holiday Season. Jeromy has watched a report on TV given to him by his teacher as a homework assignment about the lack of charitable donations of toys this year due to other, world wide events, which have taken priority for many Torontonians' donations, such as the Typhoon Haiyan in the Philippines. He then had to complete a written report about the organization which provides toys and other items for Christmas to families who cannot afford to by the presents.
The student has been deeply touched by the sight of empty boxes, which are usually filled with toys for children during this time of year. Jeromy immediately went to his teacher and asked if he can have a more practical approach to this assignment, and start a toy drive at OIC. Once he was given a green light, he carefully planned how he was going to reach out to the students, and collect their donations. Though on the first day, after he has set up an area where the students can drop off unused toys and other items, we did not see much, only 5 or 6 toys, his spirits did not dwindle and he was excited to go class to class and make a presentation about the organization he was collecting the toys for. Jeromy was a bit unsure of himself during this process, and was a bit worried about the turnout of the event. Our goal was to get 50 items which could be donated to the Holidays Helpers. However, OIC community has surprised us all. During the following two days, students, teachers, and administrative staff have donated a generous amount of toys and other items from the wish list. The teachers at OIC have played an important part in supporting Jeromy and his cause, as they have not only encouraged their students to make donations, but also have made donations themselves. Administrative staff at OIC also pitched in, and on our last day we counted over 150 items, 168 to be exact.
When asked about the donation, and the overall experience, the Vice Principal of the school, Mrs. Agar says: "I am overwhelmed by the generosity of OIC community. This outcome shows that our students, teachers, and staff are generous and thoughtful at heart, as they care for others who may be in need during this holiday season. My deepest appreciation goes out to Jeromy who has organized this event, but also to every one in the OIC community who has made a donation to the Holiday Helpers toy drive. Our best wishes to those families who may face financial struggle throughout the year and find it difficult to buy presents during the holidays. We hope our donations will help some of you and put a smile on your children's faces. Wishing you a Happy Holiday Season full of warmth, love, and joy!"
Ontario International College is anticipating the start of the next week as they will continue making contributions to the Toronto communities by organizing a food drive for the North York Harvest Food Bank.